Saturday, September 6th, 2008
THANK YOU THANK YOU to Paris to the Moon and The Paris Underground…. EVERYONE there is amazing and that store is so wonderful I wanted to move in.
The dolls cried all the way home because they wanted to stay!!!  Darren and Kerri!!! & everyone who works there & everyone who came out.. you all made me & the dolls
feel so at home! Thank you! And Kerri and Darren I have to tell you that Marcel and his bucket are smiling at my door with the queen of hearts and mad hatter looking over them.. He's a happy little door mat !!
"Callalilly" was shown several times throughout the night
so lots of different people could see my doll daughters on the big screen! It was wonderful!  I felt as at home there as I do in New Orleans and
that's saying something ! =)
I also got a treat in learning about  Infamous Baby.  Lisa was there with her wonderful creations and if your in the market
for baby and toddler goodies.. that is your one stop shop for certain!!
Callalilly got to hang out in Hursula the most amazing hearse I have ever seen, owned and driven by one of the most wonderful zombie doll crafters I have ever seen!
Cheri's Night of the Living Thread dolls are wonderful!! You can find her on myspace!!!  Here's Callalilly in Hursula!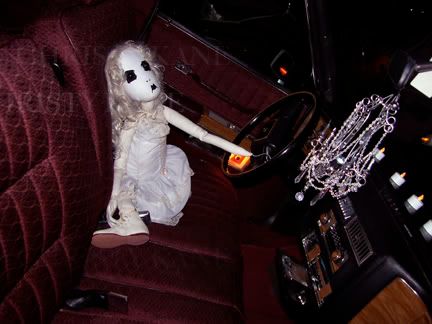 Now this coming Weekend I'm having a solo show at
M Modern Gallery!!! I can't wait!! Lots of new dolls will be there including Miss Clara Kane who's featured in the postcard!Lynne Naylorwill also have a solo show the same night.  It's a night not to be missed so if your in
the area come on by!! I'll also be baking cupcakes so you'll get free sugar too!! Lovely Art and sugar.. what more could you ask for!   Hope to see you there!
X's and O's from all the dolls and their mom!